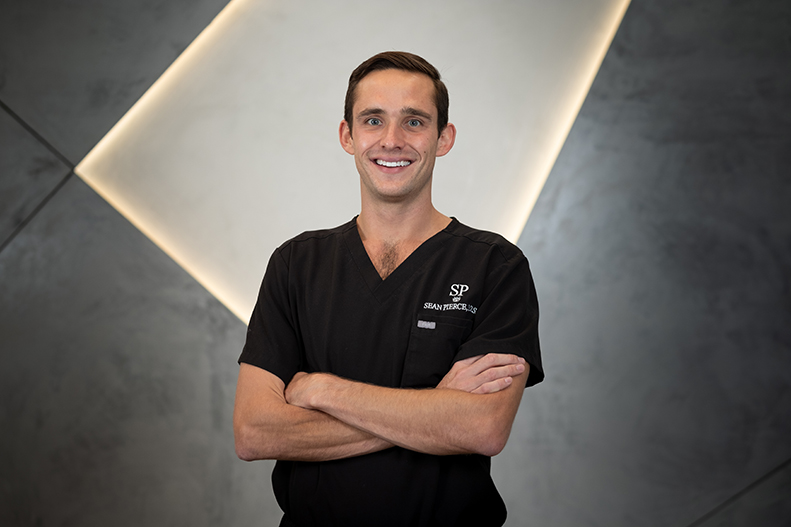 DR. SEAN PIERCE, DDS
Cosmetic Dentist & Oral Surgery
Dr. Sean Pierce believes in providing quality patient care and forging lifelong relationships with his patients. He is motivated by the impact that his work has in bringing lovely smiles to the lives of patients and their families. Dr. Pierce is committed to providing premium dental care by combining his expertise with advanced equipment and technology.
Dr. Piece born in Green Lake, WI. He completed his three-year undergraduate education at Marquette University in Milwaukee, WI graduating Magna Cum Laude. Following his undergraduate course, he enrolled at the Marquette University dental school, where he completed his Doctorate in Dental Surgery. Throughout his education at the dental school, Dr. Pierce featured on the Dean's list every year and graduated with a coveted Magna Cum Laude. He also attended UCLA School of Dentistry to complete a post-grad internship program in Oral Maxillofacial Surgery.
Dr. Pierce is not just an expert in general and cosmetic dentistry; he also specializes in oral surgery, TMJ treatment and implant surgery and full-mouth reconstruction. He has undergone advanced training in oral surgery and dental implants at UCLA and has published his research on TMJ disorders and treatment multiple times in research journals.
Since opening Pierce Aesthetics, Dr. Pierce has received national recognition for his commitment to pioneering advanced technologies. He was recently recognized as a Top 40 Under 40 Dentist in America and was awarded a Top Doctor award for his excellence in cosmetic dentistry. He serves as Key Opinion Leader for Mavrik Whitening Systems and has played a key role in Neocis Robotics. Additionally, Dr. Pierce operates California Dental Institute (CDI). California Dental Institute is a fully accredited institution that offers comprehensive dental assistant training and continuing education courses.
Dr. Pierce is proud to provide premium dental care with the carefully curated combination of advanced techniques, modern technology and a team committed to patient satisfaction.