Go back
TMJ Disorder Treatment Orange County, Tustin, Irvine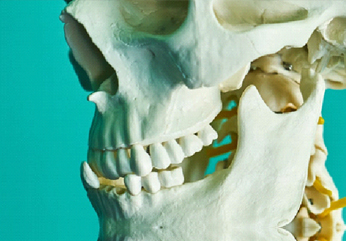 The Temporomandibular Joint, commonly referred to as TMJ joint, is the joint structure that connects the lower jaw (mandible) to the skull (temporal bone) in front of each ear. It comprises of muscles and bones that help in jaw motion for talking, chewing, yawning, etc.
Problems in this joint area are known as Temporomandibular Disorders, or TMD. Sometimes, you will hear it being called TMJ Syndrome. However, many people know it as simply "TMJ". For clarity in this article, we will refer to the disorder as TMJ Disorder or TMD, and we will refer to the joint as TMJ joint or jaw joint.
What is TMJ Disorder?
A TMJ Disorder occurs when the jaw joint is injured or afflicted with medical conditions, such as autoimmune diseases.
It causes pain in your jaw joint and in the muscles that control jaw movement. It affects a  person's ability to chew, speak, swallow. Sometimes, even breathing is affected.
What are TMJ symptoms?
TMD often causes severe pain and discomfort. It's sometimes temporary, sometimes lasting many years. It can affect only one side, or both sides of the face.
The following are the signs and symptoms that may indicate you are suffering from TMD.
Pain and/or tenderness – You may feel the pain in your face, in one or both TMJ joints, in your neck and shoulder area, or in and around your ear. The pain may be radiating from your jaw joint to your neck and shoulders. You may feel muscle spasms as well. The pain can occur while talking, chewing, yawning, or when you simply open and close your mouth. Other symptoms of migraines can occur such as headaches and dizziness.Back pain, shoulder pain, and stiffness of the neck can also occur.
Pressure or ringing in the ears (tinnitus) – When this occurs, many people are misdiagnosed with an ear infection because their TMD pain is mistaken for an ear problem. Sometimes, hearing loss can occur due to TMD.
Clicking, grating, and/or popping sound during jaw movement – TMD can cause these sounds in the jaw joint when you open and close your mouth, or when you chew something. This indicates an abnormal position of the joint. It may or may not be painful. Treatment may not be necessary if there is no pain that come with these sounds.
Locking of one or both of the joints, making it difficult to open or close your mouth – When your jaw gets "stuck" in the open position, it indicates a dislocation. Sometimes, when trying to open your mouth, the lower jaw my slide to one side. These could happen suddenly.
Difficulty chewing or pain while chewing – This may sometimes come with the upper and lower teeth not fitting together properly.
Difficulty swallowing – This may be caused by muscle spasms associated with TMD.
Swelling of the face – The face and mouth may swell on one side or both sides depending on where the affected area is.
Headache, dizziness, nausea, vomiting – These may be caused by TMJ Disorder.
Most patients who suffer from TMD often also experience other health problems such as chronic headaches, chronic fatigue, lower back pain, endometriosis, fibromyalgia, interstitial cystitis, irritable bowel syndrome, or sleep disorders.
If you are experiencing any of these symptoms, please contact our office for a patient exam.
What causes TMJ Disorders?
TMJ Disorder, or TMD, can be caused my many different things. Sometimes, it is not easy to pinpoint the true cause. But in general, problems with the muscles of your jaw or with parts of the joint itself can cause TMD.
Listed below are some of the causes of TMD.
Injury to your jaw – A heavy blow or whiplash can lead to TMD. A punch to the jaw or impact from an accident can break the jawbone, cause dislocation, or damage the cartilage disc of the joint, which can also lead to TMD.
Bad oral habits – Grinding or clenching your teeth puts a lot of pressure on your jaw joint. The constant hammering on the jaw joint can change the alignment of the teeth, which can lead to TMD. Stress can cause a person to clench their teeth and tighten their facial and jaw muscles, which can then lead to TMD.
Dental work – Certain dental procedures that require the mouth to be open for long periods of time can lead to pain in the TMJ joint in some people.
Osteoarthritis – The joints that are commonly affected by osteoarthritis are those that are stress bearing joints, such as the knee, spine, fingers, and hips. But this degenerative disease also affects other joints in the body, such as the wrists and ankles. And it can also affect the TMJ joint, which can then lead to TMD symptoms.
Rheumatoid arthritis – This is a chronic inflammatory disorder that affects the joints, including the jaw joint.
Other medical conditions – Infection of the joint, congenital bone deformity, cancer can cause TMD.
When TMD is left untreated, it can be more disruptive and can become a chronic condition.
Chronic conditions happen when symptoms are not attended to and remain for a long time.
Call our office today at 949-379-6511 if you have been feeling pain and tenderness in your TMJ joint. Our team will be happy to answer your questions regarding treating TMJ disorders. Or you can
click here to request for an appointment
.
What are the risk factors for TMJ Disorders?
A risk factor is something that increases the likelihood of getting a disease or condition.
The risk factors for TMJ disorders can be your medical conditions, hormonal, behavioral, or genetic.
Medical Conditions – The following medical conditions increases your risk for TMD:

Various types of arthritis such as rheumatoid arthritis, osteoarthritis, or fibromyalgia
Jaw or facial deformities
Misaligned teeth
Misaligned bite
Inflammation of the inner lining of the TMJ joint
History of injuries on your face or jaw
History of dislocated TMJ joint
Muscle pain or spasms of the muscles for chewing
Dentures that don't fit right
Hormonal – Women taking hormone replacement therapy are said to have increased risk for TMD.
Behavioral – Bad oral habits that are chronic and long-term increases your risk for TMD.

Grinding of teeth
Clenching of teeth

Genetic

TMD occurs more in women than in men
Most people report TMD symptoms between 30 years old and 50 years old.
Please note that you can still get TMD with or without these risk factors.
And like any disease or disorder, the more risk factors you have, the greater likelihood you will develop TMD.
Call our office today at 949-379-6511 to discuss possible causes and treatments for your problem.
What are TMJ treatments?
There are things you can do at home to relieve the symptoms of TMD.
Over-the-counter medicines such as ibuprofen can help relieve pain and swelling.
Apply an ice pack to the swelling side of your face for about 10 minutes. Do a few simple jaw stretches (but only if your dentist of physical therapist allows it). When done, hold a warm or hot pack on the same side of the face for five minutes. Do this a few times each day.
Go on a soft-food diet. Examples of soft foods are soup, mashed potatoes, yogurt, fish, etc. You can also cut your food into small pieces so you chew less.
In some cases, the symptoms of TMD may go away without treatment or with just these home remedies.
However, if your symptoms persist, call our office to discuss a variety of treatment options such as the following.
Prescription-strength Medications
Oral splint and/or a night guard
Physical therapy
Counseling
But sometimes, when these methods don't work for you, your doctor might suggest surgical or other procedures.
Call our office right away at 949-379-6511 for a patient examination if the symptoms persist. We can discuss the potential benefits and risks and come up with a plan for you.
Prevalence
The National Institute of Dental and Craniofacial Research (NIDCR) is the federal government's lead agency for scientific research on dental, oral, and craniofacial health and disease.
According to the NIDCR, the prevalence of TMJ Disorder is between 5% and 12% and is higher among younger persons. TMD is at least twice as prevalent in women as men. And women using hormone therapy are more likely to seek treatment for TMD.
Pierce Aesthetics can help you
You should seek medical attention if you have been feeling pain or tenderness in your jaw, or if you can't move your jaw normally.
And if, after reading about TMD above, you feel you might be suffering from TMD, you should go ahead and request an appointment at any of your centers.
The team at Pierce Aesthetics will be happy to answer your questions on the phone, or through their website.
You can call us at 949-379-6511.
Or you can click here to request an appointment.
About Dr. Sean Pierce, DDS – Dentist & Oral Surgeon
"Dr. Pierce is not just an expert in general and cosmetic dentistry; he also specializes in oral surgery, TMJ treatment and implant placement and restoration. He has undergone advanced training in oral surgery and dental implants at UCLA and has published his research on TMJ disorders and treatment multiple times in research journals. When Dr. Pierce is not restoring smiles, he prefers to relax by running, enjoying a game of golf, hanging at the beach or cheering his favorite team, the Green Bay Packers."
 We can help you. Call our office today at 949-379-6511 and our team will be happy to answer your questions regarding treatment for TMJ disorders. Or you can click here to request for an appointment.
Our team is experienced and delivers services with a smile. It is important to us that you are at ease, that we understand your concerns, and that you are fully prepared to receive treatment.
Pierce Aesthetics combines a phenomenal dental team with the power of cutting-edge dental technology in the service of your oral health.
Our clinic has state-of-the-art dental technical equipment to provide the best present-day treatment in dental services.